FINAL HOURS for 30% OFF select styles! XOXO
Newsletter received on 02/13/20 from
TALBOTS
---
WARNING


This newsletter was sent more than 30 days ago, the offer may no longer be valid. To view more recent offers from TALBOTS, go to this page.
Can't see the images? Please click here.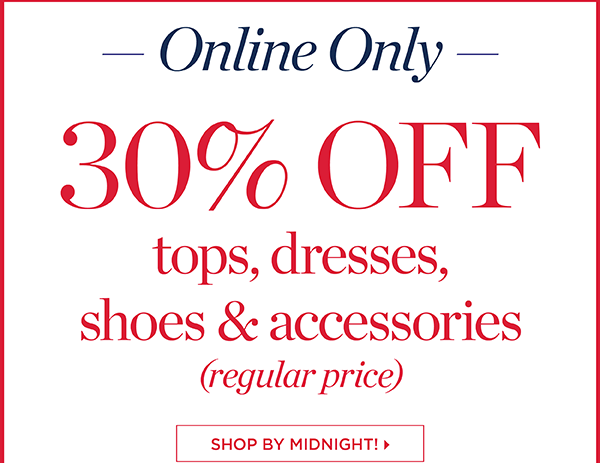 | | |
| --- | --- |
| | |
| | |
| --- | --- |
| | |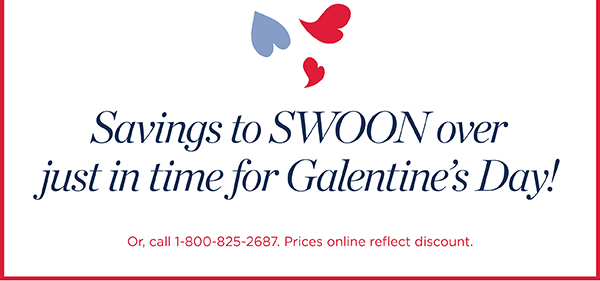 30% off regular-price tops, dresses, shoes and accessories valid 2/13 only for purchases made online or by phone.

All promotional offers, including those related to Classic Awards and Talbots Credit Card, exclude Talbots Intimates, Barbour®, Blondo®, Superga®, SPANX®, Keds® and Sperry® products. Offer is subject to availability, and Talbots reserves the right to change or withdraw the offer at any time without prior notice. Taxes, shipping and handling fees, purchases of Gift Cards or e-Gift Cards, and payment of a Talbots Credit Card are excluded from the discount. Offer may not be combined with other offers or discounts and cannot be used for prior purchases. No rain checks. No price adjustments. No cash value. Not transferable. Cannot be used at Talbots Company, Outlet or Clearance stores. Associates of Talbots and its affiliates are not eligible. Retirees and corporate accounts of Talbots and its affiliates also are not eligible.



Sent by The Talbots, Inc.
We welcome you to chat with one of our Customer Service Specialists
or call us at 1-800-825-2687 for prompt answers to all your questions.
You may also contact us by mail at the following address:
The Talbots, Inc., Customer Service, One Talbots Drive, Hingham, MA 02043

Please do not reply to this email. Replies to this address cannot be serviced.
Don't miss an email! Add us to your address book: talbots@e.talbots.com
This email may be considered an advertising or promotional message.
If you no longer wish to receive these emails, unsubscribe using the link below.


08/04/20 from
TALBOTS
FINAL HOURS for 30% off + 2X Style Points!
Major savings on NEW ARRIVALS ends MIDNIGHT ⏰ ‌ ‌ ‌ ‌ ‌ ‌ ‌ ‌ ‌ ‌ ‌ ‌ ‌ ‌ ‌ ‌ ‌ ‌ ‌ ‌ ‌ ‌ ‌ ‌ ‌ ‌ ‌ ‌ ‌ ‌ ‌ ‌ ‌ ‌ ‌ ‌ ‌ ‌ ‌ ‌ ‌ ‌…
08/03/20 from
TALBOTS
Hurry, the clock's ticking on these deals!
Last day to save 30% on New Arrivals and 50% + 15% on markdowns. ‌ ‌ ‌ ‌ ‌ ‌ ‌ ‌ ‌ ‌ ‌ ‌ ‌ ‌ ‌ ‌ ‌ ‌ ‌ ‌ ‌ ‌ ‌ ‌ ‌ ‌ ‌ ‌ ‌ ‌ ‌ ‌ ‌ ‌ ‌ ‌…
08/03/20 from
TALBOTS
SURPRISE 🎉 One more day for 30% off New Arrivals!
Plus 2X Style Points! Hurry, you have until midnight to scoop up this amazing deal. ‌ ‌ ‌ ‌ ‌ ‌ ‌ ‌ ‌ ‌ ‌ ‌ ‌ ‌ ‌ ‌ ‌ ‌ ‌ ‌ ‌ ‌ ‌ ‌ ‌ ‌ ‌ ‌ ‌ ‌ ‌ ‌ ‌ ‌ ‌…
08/03/20 from
TALBOTS
Last call to save on EVERYTHING.
Final hours to save $50 off $200, 30% on New Arrivals and 50% + 15% on markdowns! ‌ ‌ ‌ ‌ ‌ ‌ ‌ ‌ ‌ ‌ ‌ ‌ ‌ ‌ ‌ ‌ ‌ ‌ ‌ ‌ ‌ ‌ ‌ ‌ ‌ ‌ ‌ ‌ ‌ ‌ ‌ ‌ ‌…
08/02/20 from
TALBOTS
ENDS MIDNIGHT: 3 Amazing Ways to Save!
$50 off every $200! Plus, 30% off New Arrivals and 50% + EXTRA 15% off markdowns. ‌ ‌ ‌ ‌ ‌ ‌ ‌ ‌ ‌ ‌ ‌ ‌ ‌ ‌ ‌ ‌ ‌ ‌ ‌ ‌ ‌ ‌ ‌ ‌ ‌ ‌ ‌ ‌ ‌ ‌ ‌ ‌ ‌ ‌…
Store²
---
Find all the good deals of shopping classified by themes and brands. Consult our store directory to find the store nearest you for your shopping.
Usefull links
---